What is Discovery Kitchen?
---
---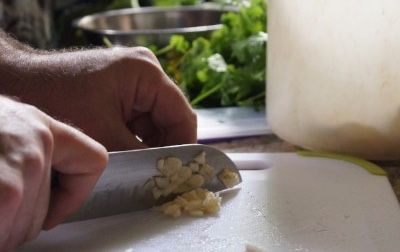 CFI's Discovery Kitchen works to make a seasonal, local diet more accessible for everyone through providing cooking education for the community, and raising awareness about the many local foods that are available in this area.  A mobile and online resource rather than a brick-and-mortar venue, our Discovery Kitchen program offers recipes, tasting tables, and cooking workshops that feature local, seasonal, produce.  
Discovery Kitchen's goal is to ensure that every community member has the knowledge they need in order to not just utilize, but enjoy, locally-grown, seasonal produce.  On top of sharing simple preparation techniques, substitutions, and nutrition tips that makes cooking from scratch less intimidating and more appealing, we hope to connect individuals with the deep joy of creating mouth-watering and nourishing dishes using the produce we can grow right here in Appalachian Ohio. 
From sharing samples and workshops with our Donation Station partners, to leading workshops at ACEnet or the library, to offering tasting tables and recipes on campus, at Veggie Van, or in our Community Gardens, we share Discovery Kitchen events with a wide range of organizations, and use it to enrich CFI programs.  After all, we all eat, and all of us deserve to enjoy healthy meals made with fresh, accessible produce -- maybe even produce grown in our very own gardens.  If you are interested in Discovery Kitchen, please contact us to see how we can be of service to you.  You can also check out our Facebook page, where we're compiling a seasonal collection of favorite recipes.  
Discovery Kitchen Recipes
---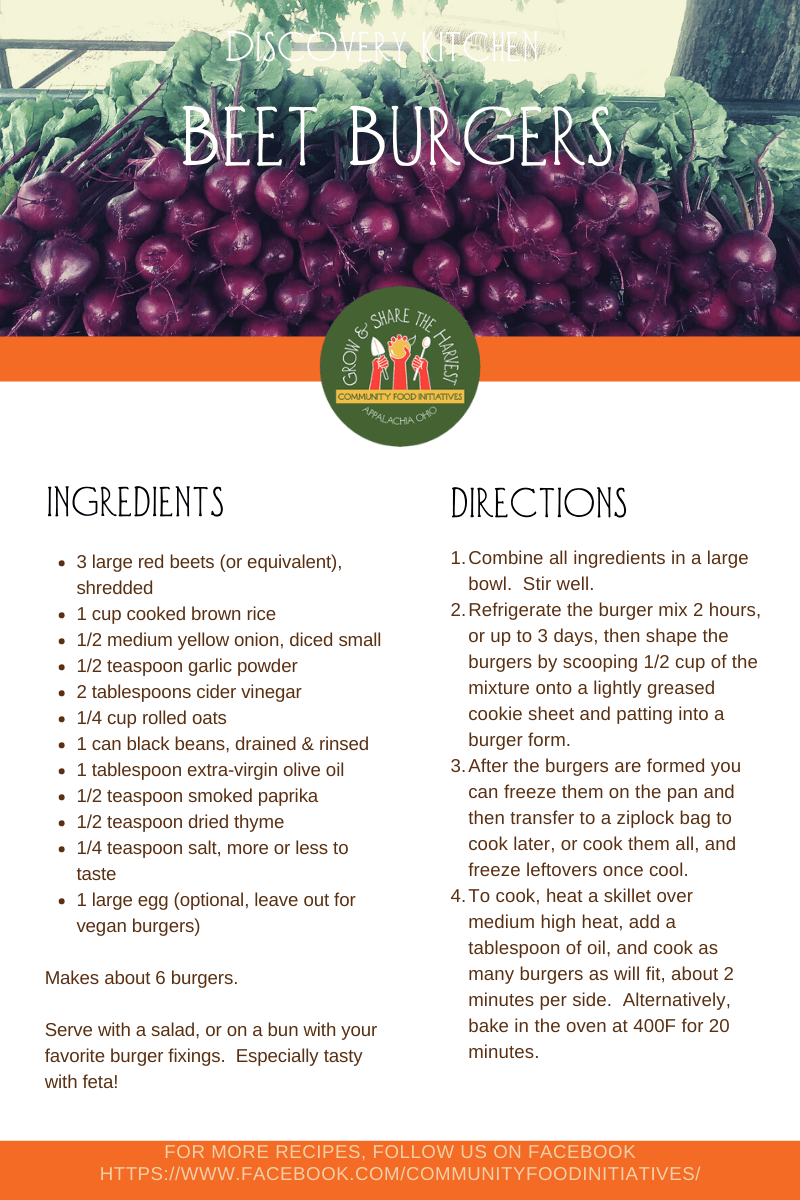 We love these freezer-friendly beet burgers! Shred your beets and cook your rice a day or two ahead to reduce kitchen time on the day you plan to make them.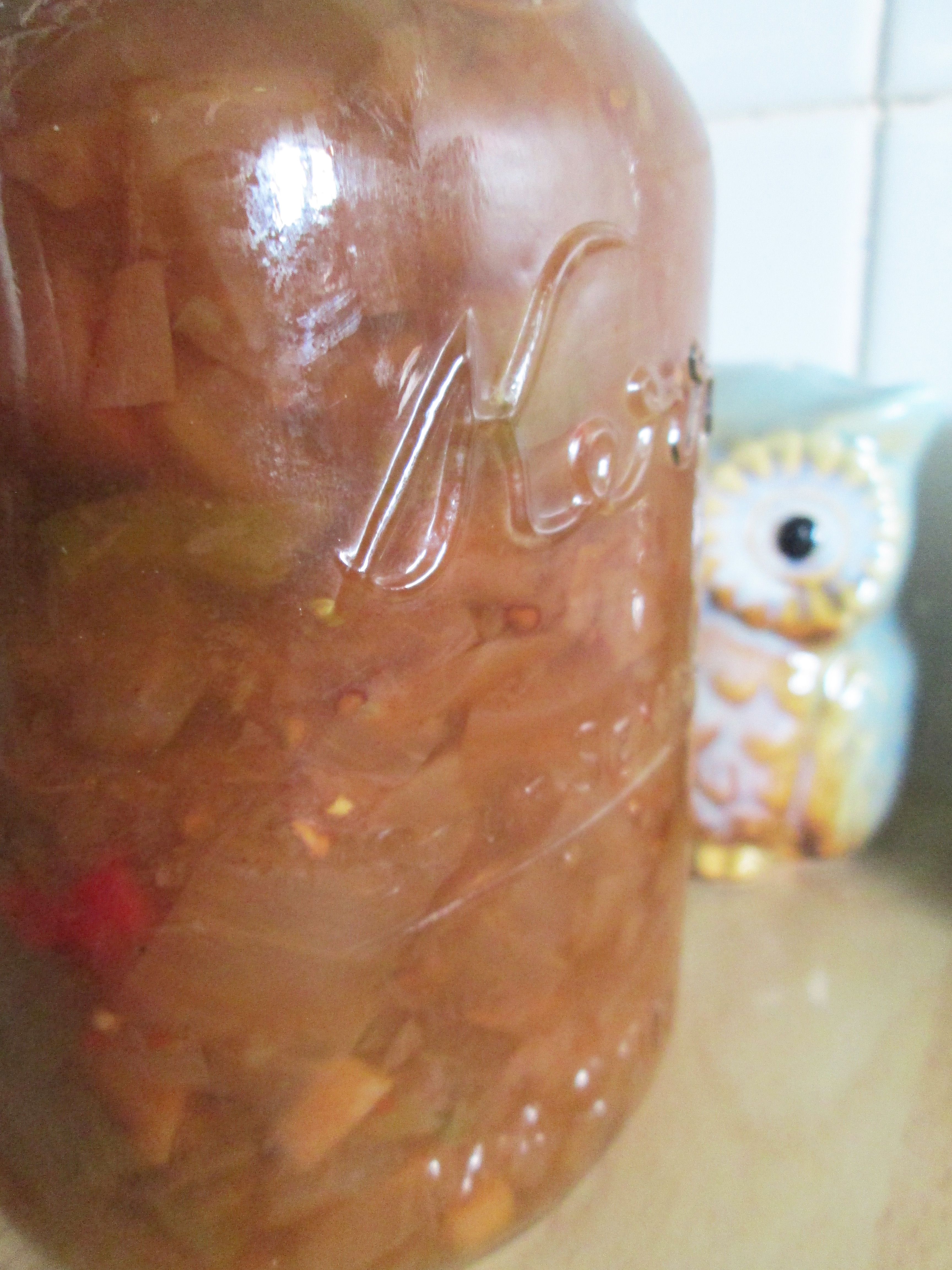 This recipe is perfect for that late summer window when tomatoes are still producing but fall produce is ripening, too. Try this as an accompaniment for winter squash, sweet potatoes, and curries, as well as pretty much any holiday fare. It also makes a delicious appetizer with crackers and goat cheese. Cook up a big batch and preserve some for the holidays -- makes a wonderful gift! Click on the recipe title to download and share freely!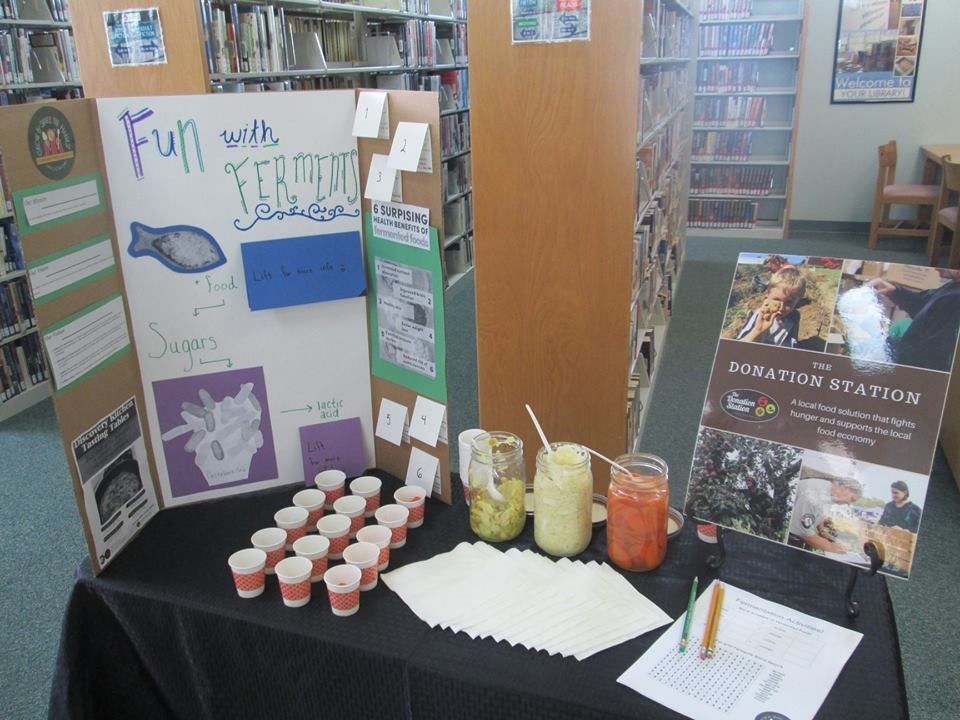 Twice a year our Discovery Kitchen partners with the Athens County Public Libraries to put on ~Tasting Tables~ a series of tasting demonstrations at all of the Library branches, highlighting seasonal and healthy food recipes. Check out the recipes!
Discovery Kitchen Snapshot