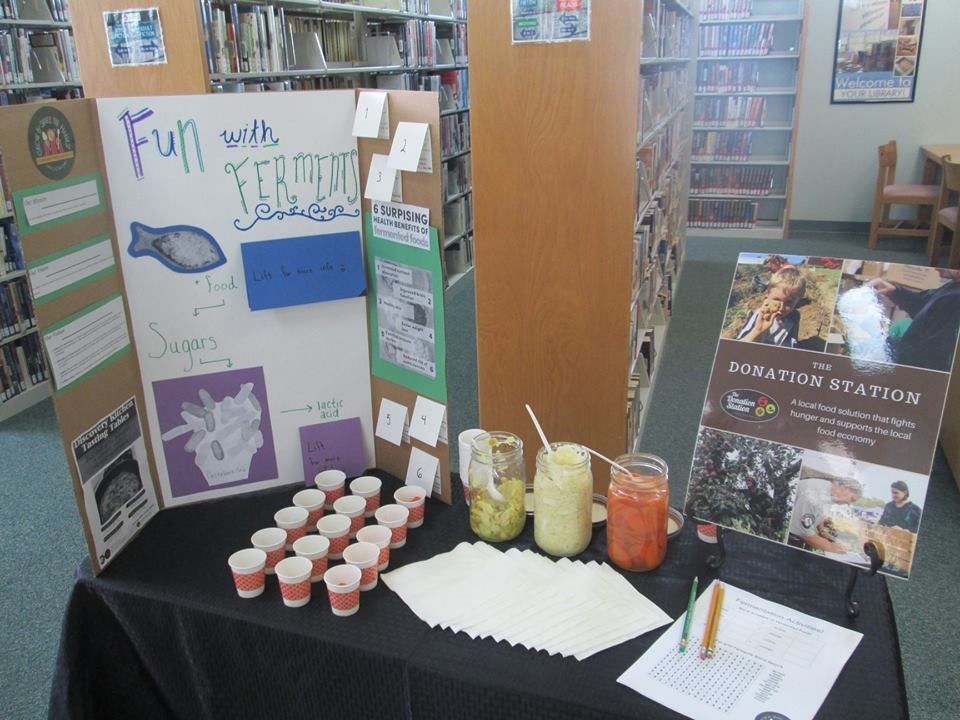 Twice a year our Discovery Kitchen partners with the Athens County Public Libraries to put on ~Tasting Tables~ a series of tasting demonstrations at all of the Library branches, highlighting seasonal and healthy food recipes. We all tried some tasty dishes together and I had tons of fun preparing the food and interacting with the tasters!
For more upcoming workshops at the Athens County Public Libraries, check out the F.E.A.S.T program going on now through April 2019! 
The first week was Fun with Ferments which featured fermented carrots, ginger, and sauerkraut.
The second week was Bubble & Squeak which is a traditional British dish that is meant to use up some of your leftovers!
The third week was an Aromatic Granola that was made entirely in a toaster oven.
The final week was a Stuffed Pumpkin which was this beautiful centerpiece of a dish with an Italian style stuffing.
Fun with Ferments
The fermented foods were a fun process. I used the sauerkraut recipe from the previous blog post, with the vegan version having about 2 tbs. of salt per quart of veggies. If your veggie does not produce liquid like cabbage does, simply create a brine by filling the rest of the quart jar with water to cover & give it a little shake! The vegan version takes about 2 weeks on the counter-top, whereas the version with whey takes only 3 days on the counter-top and then gets transferred to cold storage.
Bubble & Squeak 
Bubble and Squeak is meant to be a hodgepodge of whatever you have in your fridge, with the base usually being mashed potatoes. For my bubble and squeak, I had mashed potatoes, pureed butternut squash and fresh cabbage. You could use cabbage, peas, corn, broccoli, Brussels sprouts, etc. and it will turn out amazing.
| Ingredient | Amount |
| --- | --- |
| Mashed potatoes | 2 cups |
| Mashed root veggies or roasted veggies | 1 cup |
| Salt and pepper | to taste |
| Butter | 1 tbsp. |
Optional: ½ cup peas, ½ cup cabbage, 2 to 3 scallions, chopped
Directions: 
1. Combine the mashed potatoes and mashed root or roasted vegetables in a large bowl. The measurements are more of a guideline, so if your mixture is falling apart, add more potato!
2. Sprinkle with salt and pepper and mix into a thick kind of dough.
3. Grease a skillet over medium heat (use the 1 tbs. of butter to follow the original recipe or swap for an oil like canola or grapeseed)
Add the mixture into to the pan and press it into a flat pancake that fills the pan all the way to the edge.
Let it cook for 5-7 minutes without disturbing it.
4. Check the underside of the pancake. When it is golden, flip it! If you're feeling brave, you can try to flip it all at once or flip sections of it and smoosh it back together into one pancake.
Brown the other side of the pancake for about 10 minutes.
Once there is a nice golden crust, turn off the heat and let it cool in the pan for 10 minutes.
5. Slice into wedges and serve. 
Granola 
| Ingredient | Amount |
| --- | --- |
| Rolled/whole oats | 1 cup |
| Shredded coconut (unsweetened) | 1/2 cup |
| Hulled pumpkin seeds | 1/2 cup |
| Maple syrup | 5 tbsp. |
| Pumpkin pie spice (or spice of choice) | 1 tsp. |
| Salt | 1 tsp. |
Directions:
1. Preheat the (toaster) oven to 350 F and line a baking sheet with parchment paper.
2. In a large bowl, stir together the oats, coconut, pumpkin seeds, maple syrup, pumpkin pie spice, salt, and sesame seeds.
3. Transfer the mixture to the lined baking sheet and spread it out for even baking. Bake at 350 F until lightly golden, about 20 minutes.
4. Allow the granola to cool on the pan completely before removing it. Use your hands to break the granola into smaller pieces and store it in an airtight container until ready to eat.
5. Granola can be stored in an airtight container at room temperature for up to a week or in the fridge for up to a month.
Stuffed Pumpkin
As a grand finale, I took on the adventure that was a stuffed pumpkin. Many of the tasters told me they thought it tasted like lasagna! You can use any stuffing recipe you see fit!
| Ingredient | Amount |
| --- | --- |
| Perfectly-shaped pumpkin, about 6 lbs. | 1 |
| Water | 1 3/4 cups |
| Dry/uncooked lentils | 1/2 cup |
| Dry/uncooked brown rice | 1/2 cup |
| Poultry seasoning | 2 tsp. |
| granulated onion | 1 tsp. |
| Medium white or cremini mushrooms, chopped | 5 |
| Large rib celery, sliced | 1 |
| medium yellow or white onion, chopped(optional) | 1 |
| Freshly chopped garlic (4 to 5 medium cloves) | 1 tbsp. |
| Old-fashioned rolled oats | 3/4 cup |
| Tomato paste | 1 can |
| Minced fresh sage | 1 tbsp. |
| Minced fresh thyme | 1 tsp. |
| Minced fresh rosemary | 1 1/2 tsp.(up to 1 tbsp.) |
Directions: 
Preheat oven for 375 degrees.Cut off lid of pumpkin & scrape out the seeds and strings. Sprinkle a little bit of salt inside and set upside down to drain while you prepare the stuffing.
Place the water, lentils, rice, poultry seasoning, and granulated onion into a medium saucepan over high heat. When it begins to boil, reduce the heat to low, then cover and simmer for 45 minutes. Remove from the heat and let stand for 10 minutes with the lid still on. (Prepare your remaining ingredients while the rice and lentils are cooking.)
Place 1 tablespoon of water into a medium frying pan over high heat. When the water starts to sputter, add the chopped onion, mushrooms, and celery, and cook while stirring for 3 to 5 minutes, adding a little water, as needed. Add the garlic and stir for 2 minutes more until the vegetables have softened. If you're using dried herbs, stir them in with the garlic; if using fresh herbs, you will add them in step 4. Remove from the heat.
Place the oats, tomato paste, and nuts (if using) into a large bowl. If you're using fresh herbs (sage, thyme, and rosemary), add them to the bowl as well. When the cooked vegetables, rice, and lentils have cooled for at least 10 minutes, add them to the bowl, and stir until all of the ingredients have been mixed thoroughly.
Transfer the mix into your pumpkin, with the lid wrapped in foil, and bake for 40-60 mins until the outside of the pumpkin is tender enough for a fork to go through.
Slice into slivers, serve, and enjoy!