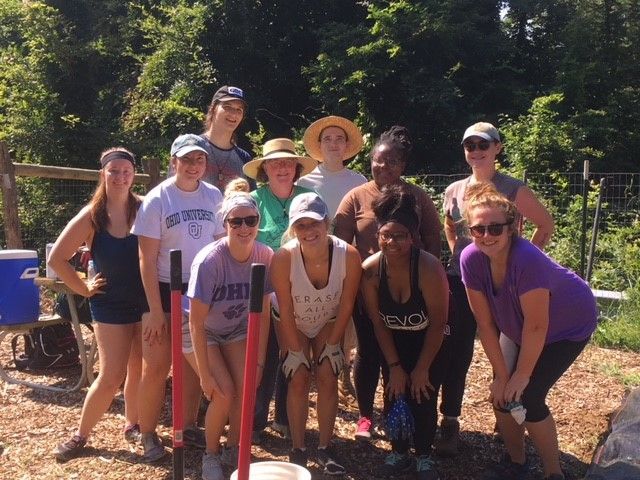 Exciting things are happening here in Nelsonville as we begin our balmy transition into fall!
We were fortunate to have a group of volunteers from Ohio University's Campus Involvement center come out and help us accomplish a lot of big tasks. Together we were able to turn up 4 of our beds and begin to add the much needed soil amendments. While the plots were being tended to, we were also able to cut down and create a mulched path all the way around the garden. It is amazing what a difference mulch can make!
With our hands in the dirt we discussed the healing powers of gardening as well as the connection we began to feel with the earth, our food, and each other. The vision for the Nelsonville gardens is to bring exactly those connections to the local community and creating a space for creation and growth. Our plans moving forward at this point are to install a fence on top of the retaining wall, finish working in the soil amendments in time for winter, and laying down the rest of the paths. In addition, we are excited to be in the planning process of involving the community in designing and painting a mural on the large, white retaining wall!
We are so grateful for all the folks who have shared their time with us, we could not have accomplished all we have without them. An extra big thank you to the Ohio University Campus Involvement center for their dedication.
Here's to a successful fall season!