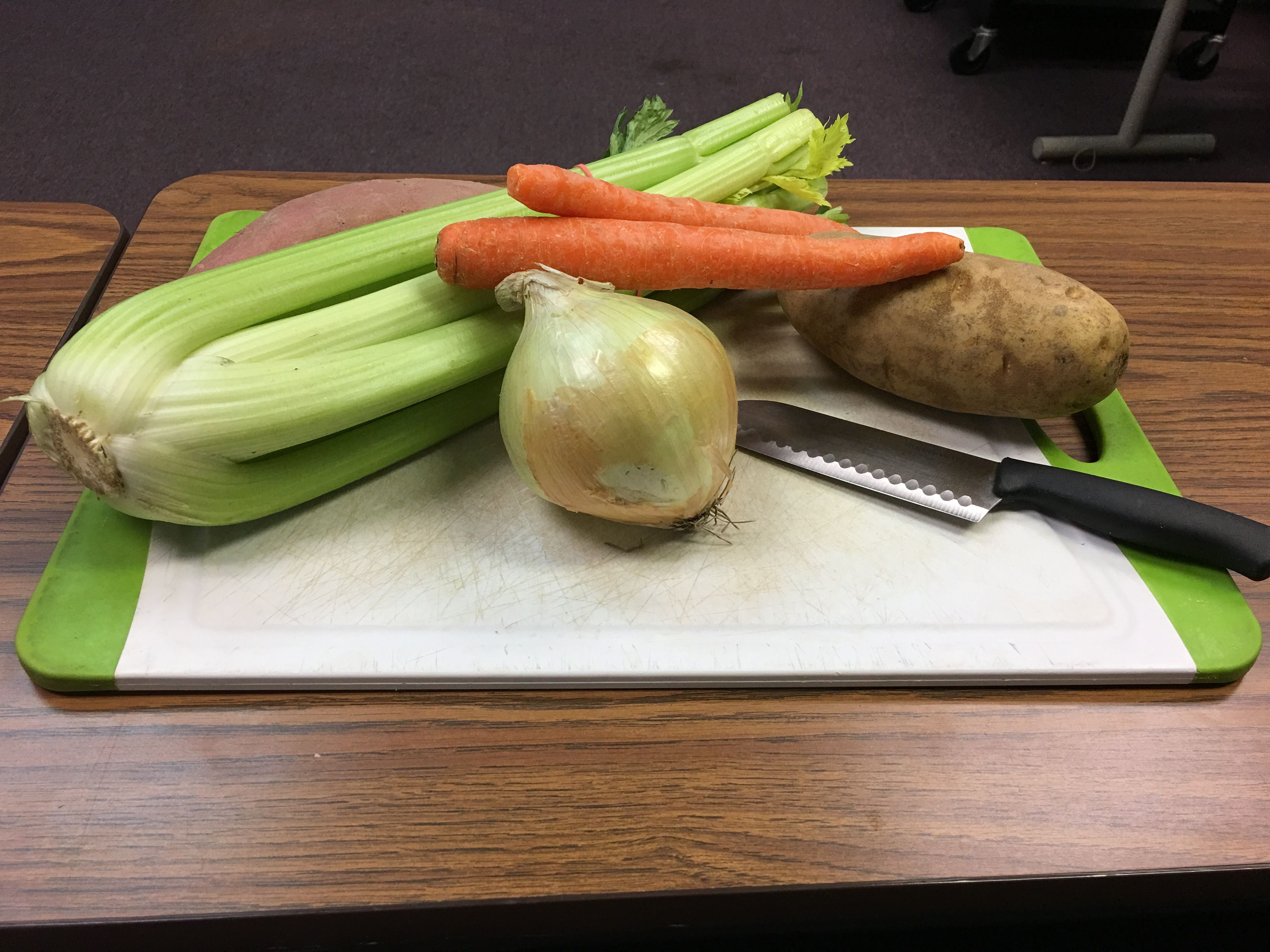 Fermentation Phenomenon: This Discovery Kitchen involved a Sauerkraut Casserole! We made our own fermented cabbage! Patrons loved this casserole!! Actually, there was not one person that disliked it, even the people who told us that they didn't like sauerkraut, gave our delicious casserole a try and ended up loving it!!
Our Sauerkraut Casserole involved: potatoes, sweet potatoes, fermented cabbage, onions, celery, and carrots. It was absolutely delicious!
SO what is fermentation??
According to Wikipedia, fermentation is the process of using microorganisms, such as bacteria or yeast, to convert carbohydrates to alcohol or organic acids under anaerobic conditions. Which basically means a substance will breakdown into simpler substances!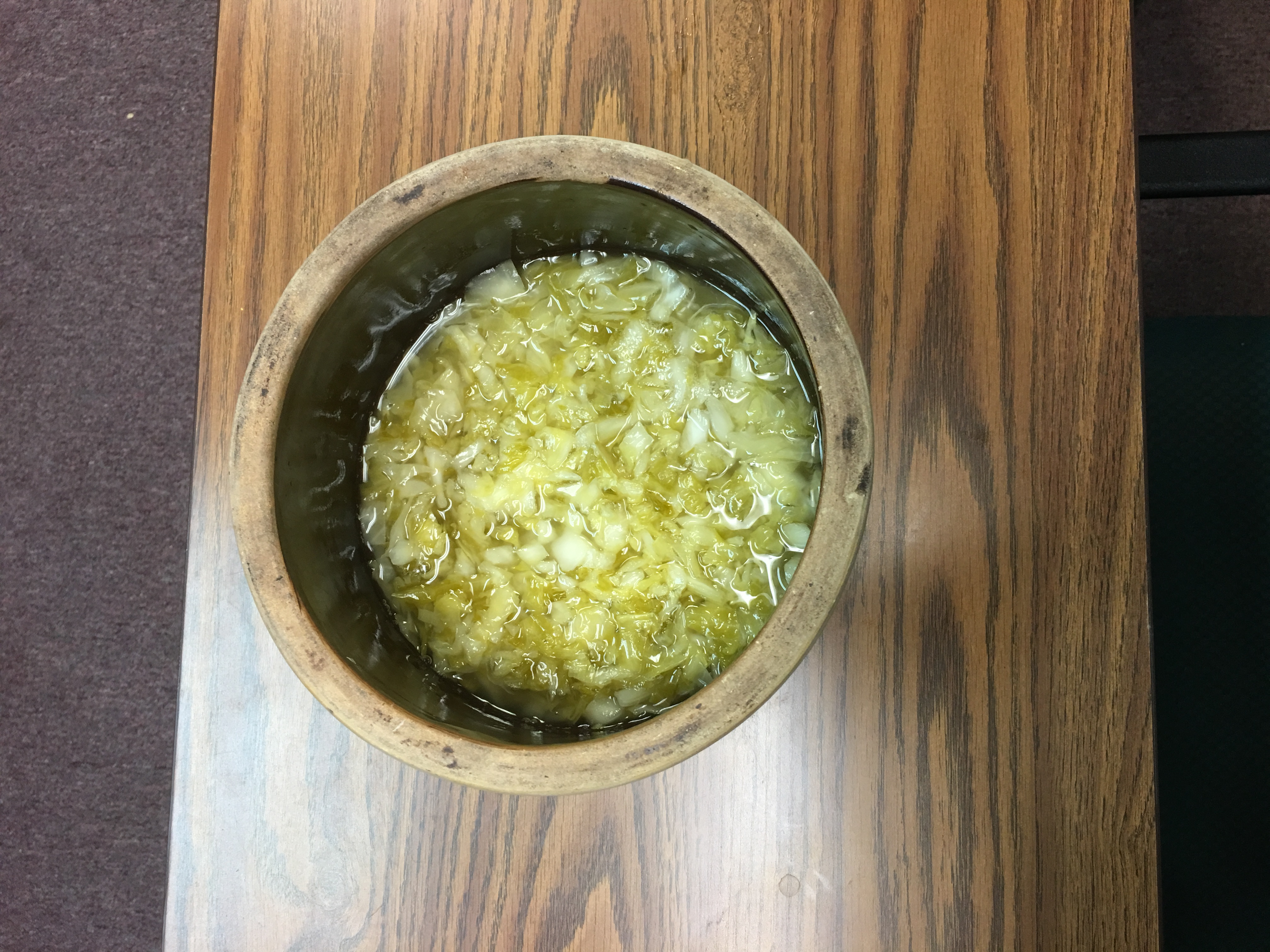 The fermentation of the cabbage for our casserole, was a very simple process that took little time to prepare. The hardest part was waiting!
The fermentation process:
1.) cut cabbage into thin strips.
2.) knead cabbage with 1-3 tablespoons salt for 10 minutes.
3.) we used a round container (reference picture below) and put the cabbage and juice in it.
4.) we pushed it down with a plate as it needs to stay below the liquid. Add more water if needed. (we put a mason jar full of water on top of the plate, to hold the cabbage down to the bottom of the round container)
5.) place a towel loosely over the container and put a rubber band over it
6.) let sit for 2 weeks
Our activity involved a fermentation 'workshop.' The patrons who were interested in our fermentation process were able to see the steps that were talked about above, in person! It was a cool opportunity for individuals to see the first-hand experience of the fermentation process.
There are tons of benefits when it comes to fermentation, both nutritionally and costly! Nutritionally, fermentation helps increase digestion and bioavailability of nutrients, as well as management and prevents a variety of diseases. Fermented food is known for enhancing the digestive system! Buying a fermented product can often hurt your wallet, doing your own fermentation is a cheap and easy process that tastes delicious!
Sauerkraut Casserole
| Ingredient | Amount |
| --- | --- |
| Medium, White Onion, diced | 1/4 |
| Celery Stalks, diced | 2 |
| White Wine Vinegar | 1 Cup |
| Sauerkraut | 1/2 Cup |
| Potatoes | 2 |
| Medium Red Apple | 1 |
| Brown Mustard | 3 Tbsp. |
| Medium Sweet Potato, diced | 1 |
| Cup Broth | 1/2 |
Directions:
1. Preheat oven to 400 degrees F
2. Saute onion, celery, carrot, and sweet potato in broth until softened.
3. Add seasonings, apple, white wine and cook until liquid is reduced.
4. Add sauerkraut, vinegar, and mustard and stir till combined.
5. Transfer to 9 x 13 casserole dish and top with potatoes.
6. Bake for 60 min or until potatoes have browned