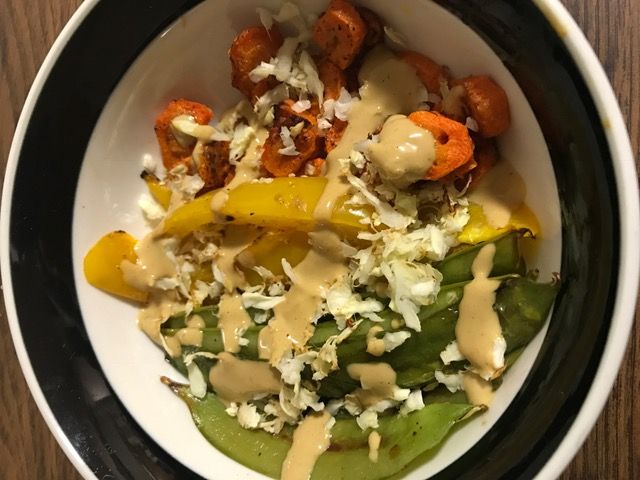 Three-spice Peanut Sauce
Hello, Affordable + Fresh readers! Welcome back! It's time again for us to seek out an amazing food experience together, using affordable shelf stable items and delicious fresh ingredients!
In honor of my final edition of A + F, I'm going to take it back to where my love for food and cooking began. It's a pretty regular story: I watched my mom do it. I was always welcome in our kitchen during meal preparation to help when I wanted, or to just watch while keeping her company. Everyone in my family cooks pretty well, but most often my mom took the reins. I would usually take off my shoes and sit cross legged on the kitchen table with my back against the wall, just taking it all in. One of my favorite parts of this was having little tastes of what everyone would soon enjoy at mealtime. She seemed fearless in the kitchen, trying out various flavors and ingredients, combining staples and fresh items, just like we do here at A + F! I didn't realize how much I had absorbed until I began having to cook for myself as an adult.
Fast forward to present day. I started with the basics and made an attempt at meal prep. I was armed with color-coded tupperware, pots, pans & utensils, and an eager spirit. Sadly, meal prepping was not my jam. I tried and tried to love those strict weekly grocery lists and cookie cutter meals for days at a time, but it was just not my thing. Slowly but surely, I began branching out. The more I browsed blogs, pinterest boards, and the grocery aisles, the more adventurous I became. I found myself starting to take chance on ingredients I had never worked with (which was sometimes intimidating) but I was still drawn to the challenging and experimental nature of home cooking.
Eventually, I was cooking most nights of the week and feeling very comfortable trying new things often. In the event of a kitchen disaster, my mom was only a phone call away, and if I felt stuck with a certain ingredient, Pinterest was always right there for recipe inspiration. I started becoming more intuitive about complementary flavors and looking for ways to create my own versions of dishes I had seen before.
Since my lease is up soon and I will be moving out of Athens, I'm trying my hardest to make casseroles, combo bowls, soups, etc to use up what I have in my cabinets and fridge. I didn't want to get bored, but I wanted something that could work with just about anything I had sitting around the house.This month's recipe came from an interest in creating a versatile sauce inspired by both Thai and Indian flavors. I had Buddha bowls on the brain, and kept imagining a beautiful sauce drizzled over rice and a rainbow of roasted veggies. The three-spice peanut sauce was born! The best part about this creamy, flavorful sauce is that it's all about you! The amounts of each main spice can be manipulated to your taste, and the sauce itself could be used to glaze meat, top vegetables, or toss with your favorite rice or noodles.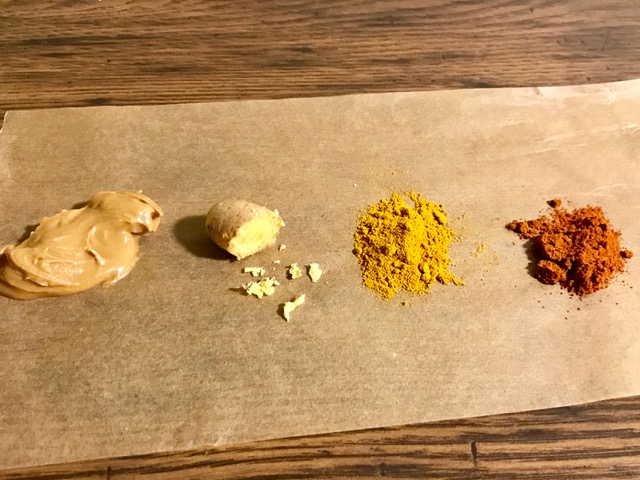 Our main shelf stable item will be peanut butter. It will be joined by cayenne pepper, turmeric, and fresh ginger. For the fresh side, I enjoyed my peanut sauce served over roasted bell peppers, carrots, and snow peas, with toasted cabbage sprinkled on top. I'd recommend this combo with jasmine rice. Next, I'll try coating my favorite noodles (I like udon, but there are many options) and topping with sweet potatoes, green onion, and sesame seeds. The possibilities are endless. I hope you have as much fun creating your own unique flavors as I did!
| Ingredient | Amount |
| --- | --- |
| Creamy peanut butter (or nut butter of choice) | ½ cup |
| Coconut milk* | ½ cup |
| Turmeric, fresh grated ginger** | ¼ tsp each |
| Ground cayenne pepper***, minced garlic | ½ tsp each |
| Honey | ½ Tbsp |
| Low sodium soy sauce | ⅛ cup |
Directions
In a small bowl, mix together peanut butter, turmeric, ginger, cayenne and soy sauce.
Transfer to small pot on low-medium heat. It should be high enough to warm peanut butter, but not make it bubble or burn.
Whisk in coconut milk until mixed well. Add honey and garlic. Let simmer for 10 minutes stirring regularly.
Carefully pour mixture into blender. Blend in 5-10 second intervals until smooth. Check texture intermittently.
Once blended, serve as desired (recommendation below). Store refrigerated in airtight container.
Serving recommendation: Slice 1-2 large carrots and 1 yellow bell pepper. Toss carrots, peppers, and handful of snow peas in olive oil, then sprinkle with salt and pepper. Roast sliced carrots on a cookie sheet at 350 degrees for 5 minutes. Add sliced yellow bell peppers and snow peas, continue roasting for 15 minutes. Set aside. Shred ⅓ head of cabbage with a grater. Toast on cookie sheet for 5-10 minutes. Sprinkle over roasted veggies and top with peanut sauce.
NOTES:
*Add coconut milk little by little. You may or may not use the full ½ cup depending on the texture you prefer for the sauce.
**Fresh ginger is very strong! If using ground ginger, double the quantity.
***Halve the amount of cayenne to have less of a spicy aftertaste.