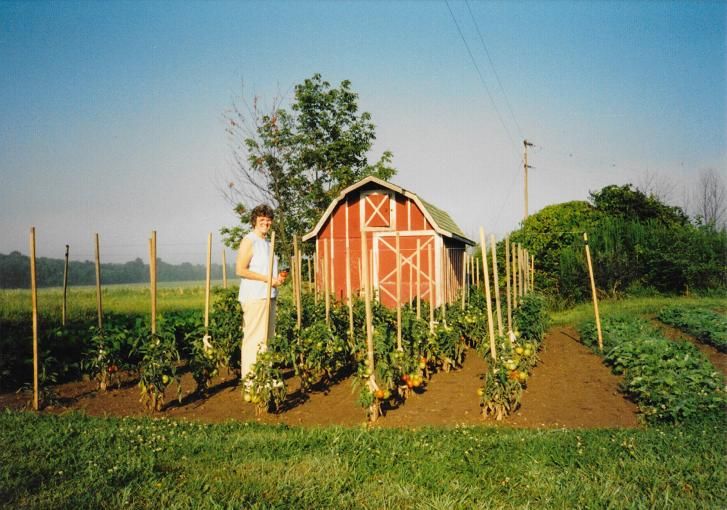 A Mother's Day Tribute
Happy Mother's Day!
Although belated, the sentiment is well intended in celebration of those moms out there who sacrifice for the benefit of their families and communities to put food on the table while juggling careers, social commitments, and countless other tasks.
Reflecting upon growing up in rural, south-central Ohio, I have fond memories of the family garden, our apple and cherry trees, hunting for morels in the woods, and foraging for wild blackberries and raspberries. These were all an important part of putting food on the table for my large family (I am the seventh son and the youngest of eight kids), as well as making sure that food lasted beyond the season. This meant canning collectibles, filling the shelves, and storing as much as we could cram into the large freezer in our basement.
As I am sure is the case with many reading this reflection, we continued to savor the harvest well after the last tomato was plucked from the vine or apple fell from the tree. Smart saving meant apple butter and strawberry jam for our toast, green beans and apple sauce for Sunday dinners, tomatoes for soup base, spaghetti sauce, and an Ohio staple, Johnny Marzetti, and zucchini for bread.
My favorite: cherry and blackberry pies at Thanksgiving. Those savories made the perilous tree-climbs and countless scratches, chigger bites and ticks from the brambles well worth it.
My mom was at the center of everything food-related, despite food preparation being a family affair in which we all had responsibilities. Whether it was cultivating, harvesting, preparing, or processing, she somehow made it all happen. Though never easy – and in all likelihood probably not appreciated nearly as much as it should have been (meatloaf again?!?) – the tasks got done year in and year out.
In hindsight, reflecting on what was a rather idyllic childhood in many ways (and perhaps taking some license to romanticize a bit), I have grown to realize how fortunate I was to be a part of a family connected to and through the food we grew, gathered, and consumed. We by no means produced at a large scale, but it was more than just about sustenance. It was a shared experience that meant family bonding, story-telling, laughter, and celebrations of many kinds throughout the year. It was about sharing the harvest with neighbors, extended family, or friends in the community who gave to us in return. We never grew zucchini, for example – there were plenty of generous others more than willing to part with it.
Once again, my mom was at the center of all of this, hence this Mother's Day reflection.
The passion that I have for food, food-related issues, and the important work that Community Food Initiatives does can be mostly attributed to the lessons learned from my mom and the example that she set. I learned that food may require hard work at times but the rewards far outweigh the efforts, that the best meals are home-cooked and shared with family and friends, and that food sustains families and builds communities.
I learned that locally-owned businesses and producers have an integral place and that supporting them was an important lesson in understanding the contributions they make – even if it meant an extra stop or two on the already long list of errands to be run. I cherished the trips to the now long-gone Super Duper grocery store or Daily's Meats/Deli in Circleville. Thankfully Rhoads Farm Market and Circleville Fast Freeze (the butcher shop) are still around.
I learned to have compassion for those less fortunate than I, and that no one should have to go without food. Although often bordering on the cliché, cleaning one's plate and the idea of "waste not, want not" was instilled in me early on. To this day that motto is an important force in my interests in addressing hunger and food insecurity. From my mom's inspiration, I realize the empowerment that comes with food sovereignty, and that food and the way we produce, source, and experience it can be liberating.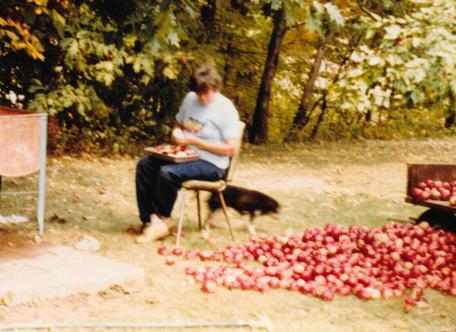 I learned about the importance of working for food justice long before I even knew what this meant or that it was even a thing to begin with. For that, I will be eternally grateful because it has defined who I am. Let's all honor our mothers, grandmothers, and family members who came before us, doing the good work of CFI and inspiring the next generation to get their hands dirty growing and sharing the harvest.
No matter how you define or who you consider to be family, there is important work to be done and meals to be celebrated.
And perhaps a zucchini or two to be shared.
Blog Disclaimer: The views expressed in this blog do not necessarily represent all the views of CFI.