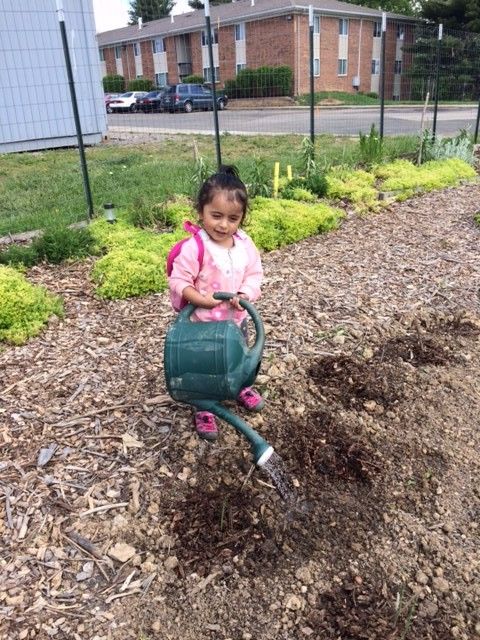 Members matter to both local and national organizations alike, and Community Food Initiatives (CFI) is no exception. We're proud to share the stories of our community members, and why they choose to collaborate with CFI, over the next several months in our #MembersMatter2017 series!
Sarita Khadka Karki, a recent Athens citizen and garden enthusiast from Nepal is looking forward to the opportunity to garden with CFI in the Southside Community Garden this planting season. Her oldest daughter has already shown the same enthusiasm as Sarita for planting tomatoes – we can't wait to see what new gardening skills Sarita and her family will gain this year! Read more of Sarita's thoughts in the interview below.
Interested in joining CFI as a member this year? Click here to sign up today!
This interview has been condensed and edited for clarity
CFI: When did you first hear about CFI?
SKK: It has been about two years that I have lived at Carriage Hill Apartments. One of my friends from China told me that it is very good to plant vegetables because you can eat the green foods! She told me that if I were to contact Community Food Initiatives, I would be able to get some land for growing my own food. This was about a year ago, and I was interested in getting involved with CFI at that time.
My husband, who is studying for his PhD at Ohio University, had to go to Virginia for some time after that, and during that time I managed to contact Janice Brewer, CFI's Community Garden Coordinator. Due to Janice's prompt response, I was very interested in taking up a piece of the land to garden.
CFI: What are you hoping to grow in your garden?
SKK: I am hoping to grow some tomatoes, green leafy vegetables like spinach, and climbers such as zucchini. Because my garden is organic, and I can grow here whatever I want here!
CFI: When did you move to the United States?
SKK: It will be two years in June 2017. In Nepal I used to do some kitchen gardening, growing some vegetables, some climbers, and zucchini. I was interested in gardening there.
But it is very had to grow a garden in Nepal because water and compost are hard to come by. But here, at the Southside Community Garden, I am really fond of getting to grow food here. I used to see deer along the edge of the gardens, and I used to watch them.
Many people were growing at the garden when I was first interested; I e-mailed someone about a plot, but there wasn't any availability at the time. But Janice informed me that during the 2017 growing year there would probably be open plots for me to grow in. I now have that chance. Thank you so very much for giving me the opportunity to grow something! I want to grow whatever seed I'll be able get.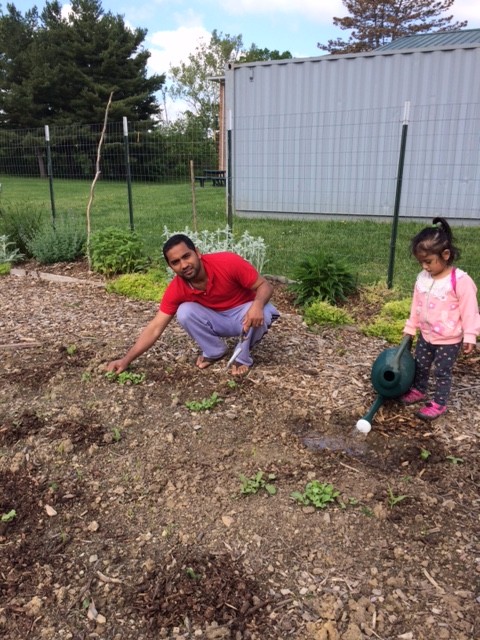 CFI: Is it difficult to find any foods in the United States you used to have in Nepal?
SKK: Yes. I used to have the shoots of pumpkin but I wasn't able to find anything like that here. There are so many foods missing from Nepal here! We used to use spinach a lot, and zucchini, which you can also get here. That is a very good aspect.  
CFI: Are you hoping that your kids will help you in the garden?
SKK: Yes. My one kid is very small – just four months. The other girl is two and a half years old. She has always loved the garden; one day there was someone who had grown tomatoes here, and she never wanted to leave this garden! I can now teach her how to garden.  
CFI: What do you enjoy most about gardening?
SKK: Gardening means that I can find so many friends, and get some interaction. I can use some of my leisure time to grow something here. My kid will also enjoy spending time year.
If I get some flower seeds, I am hoping to grow them along the edge of the garden because it will look pretty and attractive. And I can cut some to put in my kitchen!
CFI: Why should other people become a gardener or join CFI?
SKK: CFI and its community garden program is very good. If a potential gardener is low income status, they can get the opportunity to become involved in this garden.
When I was searching CFI's website to find Janice's email, I found that this organization is a very good opportunity for people who may go hungry – and for those of low income status to get a garden and to get quality food.
People will be able to get involved in the workshops every month if they are a CFI member, which will help us all learn how to garden. There was a Gardening in Small Spaces Workshop that I was interested in.
I am very interested in going to CFI's workshops because my husband is a graduate student now, and he is always at the college. And since I have two small kids, it's nice to go with them outside of the apartment.
CFI: Is there anything else you would like to add?
SKK: I want to say thank you very much for giving us the opportunity to garden and to plant some of our food items. Because I stay here at Carriage Hill, it will be very easy for me to come here and grow. And my kids will be able to join me. I will also be able to interact with other people. This is a really good opportunity for us.
I used to think that CFI and its types of programs were very common. I used to think that in a simple way like that. But from the date that I signed that agreement of the gardening, and Janice sent me so many fliers about upcoming workshops and garden work parties, I saw that there are so many things that we can do outside of the garden and in the garden. And that there is the potential to make so many friends and so many interactions. Because you know that I have very little friends, and my kids are very small, and I have nobody to speak to. I think this is a very good opportunity.
In the gardening time, during work parties every other week, I will get to know my neighbors more.