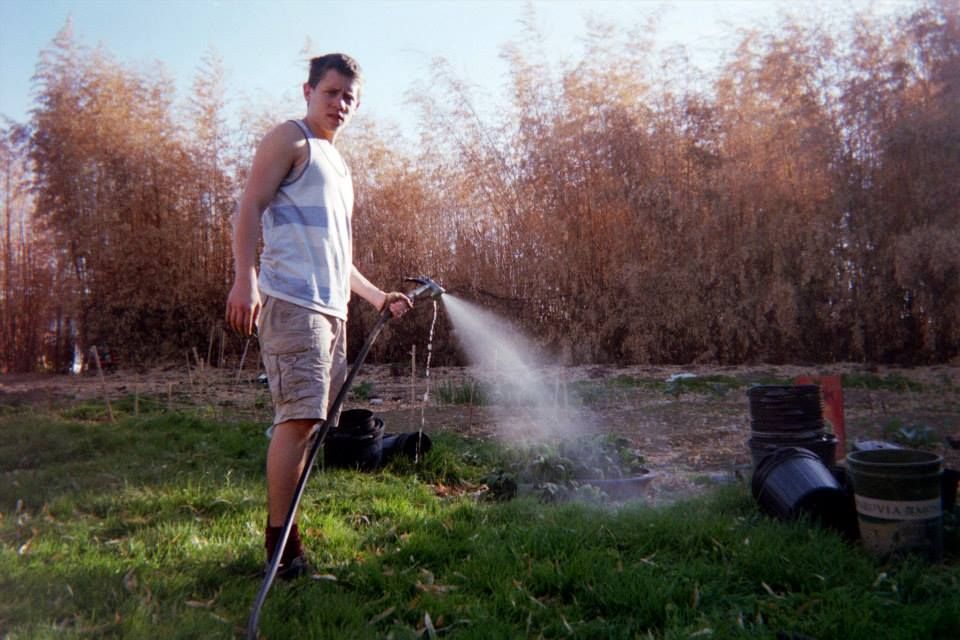 Members matter to both local and national organizations alike, and Community Food Initiatives (CFI) is no exception. We're proud to share the stories of our community members, and why they choose to collaborate with CFI, over the next several months in our #MembersMatter2017 series!
Mathew Roberts, Athens community member and previous COMCorps volunteer for CFI, sees CFI as an access point for greater volunteer service and community engagement – and local food. Mathew calls the work of CFI "building bridges" to engage people in the healthy, fresh, and local food economy for the long-term. His favorite memories with CFI are always at the Harvest Dinners. Read more of Mathew's thoughts on "Why CFI?" in the interview below!
Interested in joining CFI as a member this year? Click here to sign up today!
This interview has been condensed and edited for clarity
CFI: When did you first hear about CFI?
MR: When I was a sophomore in college. [Seeing the] Donation Station at the Farmers Market and working at ACEnet. It was all visual; I didn't do any real volunteering until later when I was a senior and wanted to actually garden with space to do so.  
I was interested in the administration side of all the nonprofits at ACEnet. I worked with Rural Action's Zero Waste program next. To me, it was the same work around sustainability initiatives, and that volunteer spirit kept going all the way into AmeriCorps. The AmeriCorps program has an explicit relationship with CFI, so that really helped me even more understand all of the programs at CFI. With COMCorps, an AmeriCorps program, the most attractive message is 'grow your own food' and 'eat local' – and that's the main mission of CFI.  
CFI: Why are you passionate about CFI?
MR: I really believe in the mission of CFI. It's a tug and pull situation: You have to connect the networks to show the value of local food, but at the same time, it's a bit of a barrier of giving food out to those who need it. It's important for someone to be working on the intersection between those two things, and that's what CFI really does.
The goal is to create an access for local food, but in some ways you have to build the infrastructure for that to happen. Although CFI has been around for a long time, there's still a lot of work to do. CFI has made a lot of progress as far as keeping that message consistent and creating access to get other people involved to help to get food for people who need it. By standing back and looking at involvement in nonprofits in general in this area, CFI is the most attractive to come and work with. You get to play and get dirty – and that's what people want. I think the work CFI does is really admirable.
Values are behind why I am passionate about CFI. I grew up in a household that at least talked about giving to those who need it. But these lessons didn't really come into practice until I came to this area. CFI as an entity has allowed that thought to grow, just being in existence, and to help define what giving means through volunteering.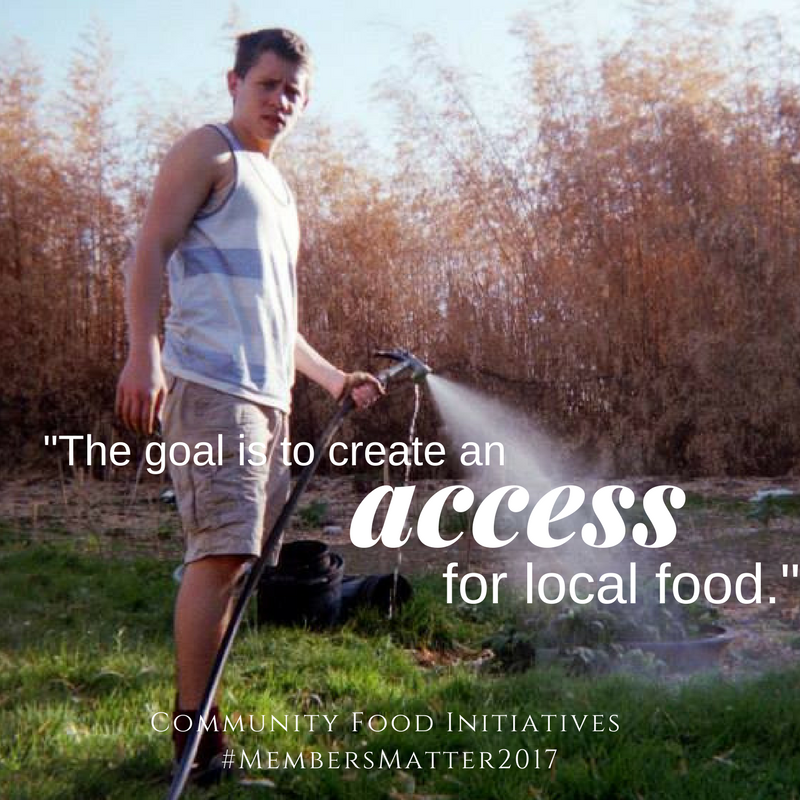 When I was a COMCorps member, I was delivering food from Donation Station to the village of Kilvert and at the time, at least from Kilvert's point of view, there wasn't a good relationship with CFI for reasons I couldn't really pinpoint. But me being consistent and going out there in a way helped the mission without having CFI be the lead on that. I wanted to give food to these folks because it was available, and it was on my route to go work at the school, and it was important for me to step out of my comfort zone and talk to people I'm not used to talking to. The network that is CFI and COMCorps and volunteering with this community allowed that to happen. Before, it was all just theory and good thoughts, mostly just living at home before college. The values were there but the practice was not. CFI creates a route for the practice, which is great. Thanks COMCorps, and CFI!
CFI: Tell me about what problem(s) CFI solves.
MR: Building bridges to get food to places that need fresh foods. People in need have access to commodity foods, but not always fresh foods. The fresh access allows people to have the vision to create greater food access for themselves through gardening. They can continue to engage after accepting those donations, which improves the local food economy.
Trying to fulfill that volunteer spirit that is aligned with trying to live a more simple, a more sustainable life. There is a lot of volunteering that you can do around here, but not a lot of opportunities have the intersection of sustainability and food security and even being outdoors, all in one. It's something that CFI does really well – bringing all of these problems into one access point. 
Having worked in both the energy and food sector in this community, I'm able to see the common threads and the common themes. There is a lot to say about the language created by local systems; it's also found in the language created in getting more local energy programs going. CFI has an important role to play, so that this language isn't too elitist.  It's important that CFI creates a dialogue, but creates it in a way that's not a barrier for people to start learning or engaging with something that really touches them.  
CFI: With so many great organizations to support, why should others choose to support CFI?  Or to volunteer with CFI?
MR: You can see what your effort does – from farm to market to a hungry person. Sometimes you can't really see the effort. But you are able to see the whole process here at CFI.
CFI: Is there a particular moment or memory with CFI that stands out for you?
MR: The Harvest Dinners are always a good memory – a good wrap-up of what's going on and what's new, what's innovative, and what's coming up. Those are the good memories because everyone is engaged with CFI in some way. We all get the chance to collaborate, and continue keeping the torch moving. It's a good event to show people that they are valuable to the organization, and that keeps more people coming back. And the food is all great!
CFI: Is there anything else you would like to share with me?
MR: I think this interview is another reason for me to keep an eye on CFI and keep engaged.