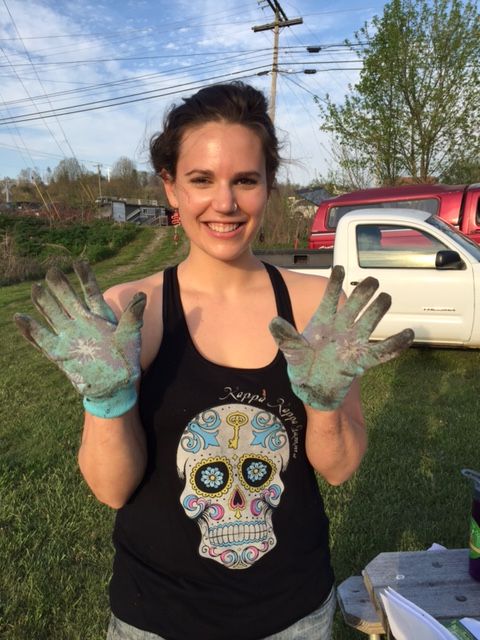 Members matter to both local and national organizations alike, and Community Food Initiatives (CFI) is no exception. We're proud to share the stories of our community members, and why they choose to collaborate with CFI, over the next several months in our #MembersMatter2017 series!
Kerrigan Boyd, CFI member, loves working in the gardens! She sees CFI as a "really interactive" organization, and a resource for future community empowerment. Kerrigan has a few wonderful memories, like saving seeds and experiencing what she calls community 'flow' work, that she shares with us in the interview below.
Interested in joining CFI as a member this year? Click here to sign up today!
This interview has been condensed and edited for clarity
CFI: What do you love/like about CFI?
KB: Part of what I think is unique about CFI is there are so many ways to engage and so many different levels that CFI addresses the community need of food and hunger. I think it's cool that CFI is addressing this issue on so many levels and connecting so many people so many different ways.
CFI is a really interactive organization, too – it's not just purely aid, it's addressing the community on every level, the immediate and the skills-building. It's a more holistic, sustainable model, which I think is important for a social movement.
CFI: What do you enjoy most about being a CFI member?
KB: My favorite thing last year being here, and something I want to take advantage of more, are the workshops. I think they're really cool and fun! The workshops are also community-led, so it's not bringing in someone from the outside; it's peer-to-peer knowledge sharing. All the workshops are different, and you can ask for a topic – I like the fluidity to it, the conversation and skills-building elements.
CFI: Is there any particular moment or memory with CFI that stands out for you?
KB: I have a couple that come to mind. One of my favorites (that I wasn't actually there in the moment, but by extension there), was at the seed exchange last year. Milt and Ronda, two other local seed savers, got to talking, and Milt found out that Ronda had a horrible crop loss the season prior, and that it was possible she might have lots this one variety, which she was really sad about. Milt had actually gotten that same variety at another seed exchange, and was able to bring those over to her so she could replant her stock. I thought that was a beautiful moment that shows why we have these seed exchanges. There are local varieties – heritage – being preserved. 
Another moment was when we were re-gridding the Nelsonville Garden. I sent out an email, and all of the gardeners came (maybe like 12 or so people). Everyone came, and it was this pretty big task, which I was nervous about how much work it was going to take. We all worked together and formed an assembly line and were mulching. Everyone found a task and was working hard and working collectively. We were experiencing a flow and just cranked it out in a really short amount of time – it was really cool just to see that, one, the collective community working together well and cohesively and, two, also the end products that comes out of that work, which sometimes you don't always see that.
I really wished I had kept a journal of the Yeah! Kids moments because there were so many moments when the kids would say something funny or something that really touched your heart. Mostly what I remember from Yeah! Kids was the feeling, not a specific moment.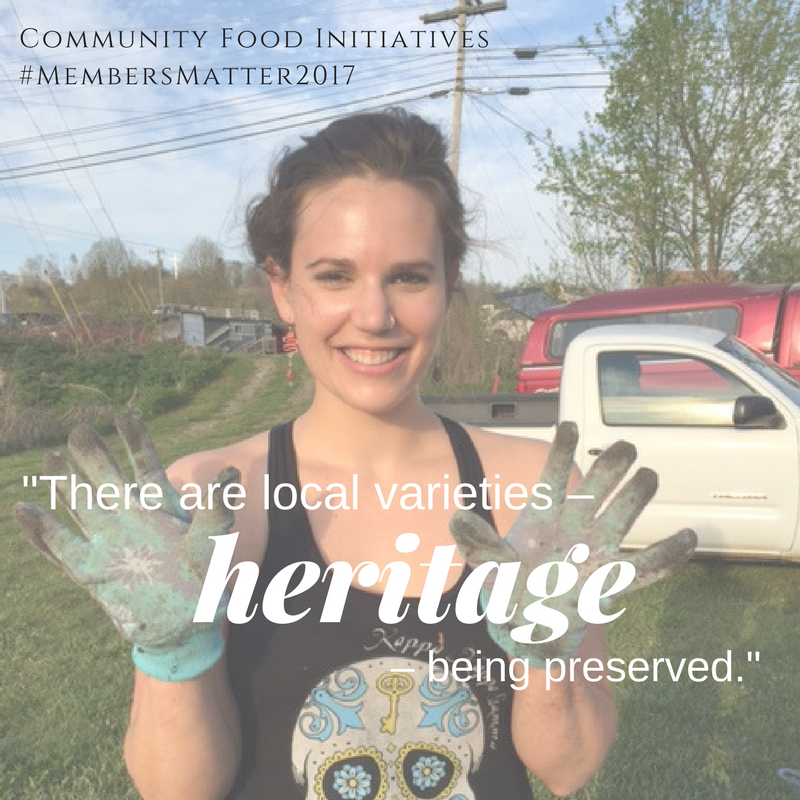 CFI: Do you remember when you first heard about CFI or how?
KB: That question made me think back quite a bit. I did AmeriCorps Summer VISTA for Hocking Athens Perry Community Action (HAPCAP) organization in Glouster. I didn't have any gardening experience at that point, I more-so thought the idea of gardening was cool, and that I'd kind of like to get into that.
Then, there was this summer position, so it just kind of worked out. That job was to create a garden behind Athens County Job & Family Services, the county home, and then work on the gardens in Glouster with the people in the Learn & Work Program, who were also cooking food at HAPCAP. So, I had started working in the Glouster Gardens and hadn't realized that it was affiliated with CFI!
Mary came into a meeting, which was the first time I had met Mary, and by extension I 'met' CFI. She then told me about CFI and a bunch of other community gardens. I think I worked with Jess [Chadwell] a little that summer, too, in rebuilding the Glouster gardens.
My fore into food justice, gardening, CFI, happened at the same time.
CFI: What do you think other people should know about CFI?
KB: I think in my experience, a lot of people just need to know that CFI exists. I think it is an organization that a lot more community members would be interested in engaging with if they knew what it was.
I wish, too, that people knew all the ways you can engage with CFI. For instance, you can go to the Chesterhill Produce Auction and buy some food to donate there, or you can have a community garden plot of your own. I think it's cool there are so many ways to engage with strengthening your community and creating a more food-just society locally. There is such a variety of ways to do that, and I wish more people were well aware of these existing options. 
And also that CFI is open to ideas. If people want to try and start a community garden in their own community space, CFI is a resource for them to empower themselves and their community.