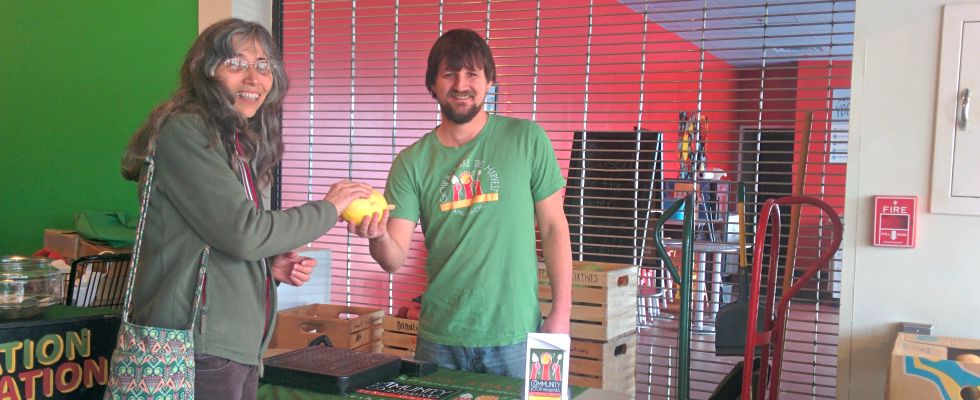 Members matter to both local and national organizations alike, and Community Food Initiatives (CFI) is no exception. We're proud to share the stories of our community members, and why they choose to collaborate with CFI, over the next several months in our #MembersMatter2017 series!
Linda Parsons, CFI member and a retired special-education teacher, believes in the power of healthy food access for all, and thinks the world would be "a whole different place to live" if everyone had that kind of food access. We're working with members like Linda to make that a reality in our community! Read more of Linda's thoughts on the power of community engagement and the impact she's having in her very own garden, in the interview below.
Interested in joining CFI as a member this year? Click here to sign up today!
This interview has been condensed and edited for clarity
CFI: When did you first hear about CFI?
LP: At the Farmer's Market with the Donation Station, when CFI first started the program. I was involved with the community a bit, but worked full time so wasn't as involved as I am today now that I'm retired. I would donate a few dollars in the fish bowl, but my garden wasn't as big as it is today, so couldn't donate any produce at that time. Now I like to bring in donated produce to the Donation Station.
I became aware of the other programs CFI offers when Rhonda Clark talked to our church, and I learned more information. It was a good space to find out. I officially became a member of CFI when I began to attend workshops. When I went to more workshops, I figured that I might as well as become a member! That's also when I found out about all of the other programs that CFI does. There are always events going on, and I like learning about our local food system.
CFI: Why is the work of CFI important to you?
LP: I taught special education for thirty-some years, and I always felt that if the kids had good food it would make such a difference. They would get on the intercom at school and say, "We are taking one of the big tests tomorrow, so remember to eat a good breakfast." But I would think, "They can't do that."
The students were missing something important. Everybody should have access to good food, no matter what. I felt that would make such a difference. And that's the goal of Community Food Initiatives: To make sure everyone has access to good, healthy food.
I felt that if everybody ate well, they could think so much better. It would be a whole different place to live. I like doing something with a group trying to do that.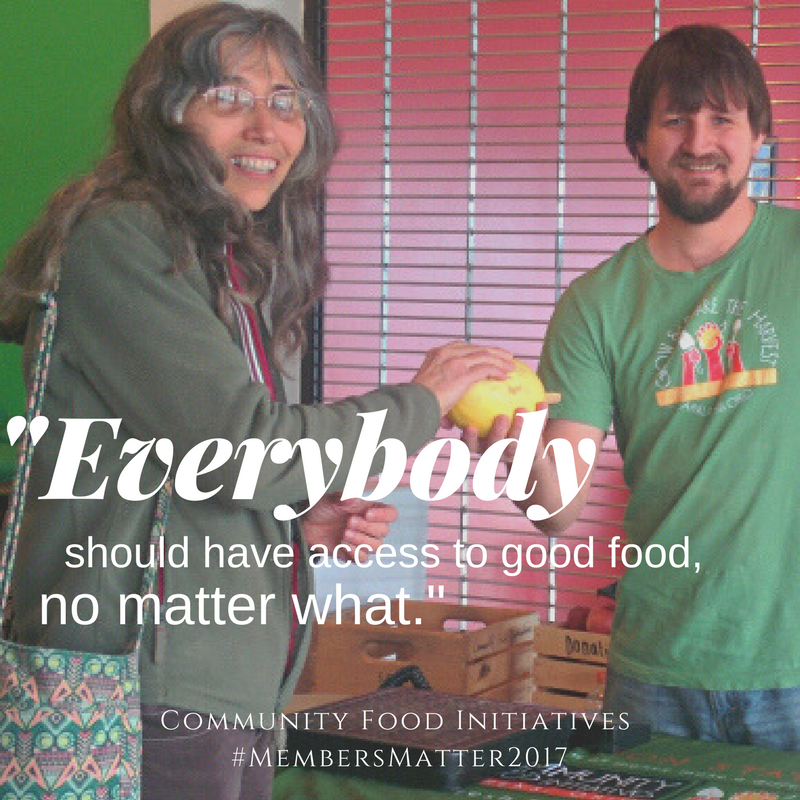 CFI: What did you enjoy most about being a member of CFI?
LP: I've gotten a lot out of CFI for my own gardening or cooking. It was a few years ago that I went to the Kifer workshop and got Kifer grains. I still have those, and I'm still feeding those. They are still living in my kitchen! I'm learning a lot.  
Also, I like spending time with people who think like I do. Nobody thinks exactly like I do, but having the same goals for the community is important. I see the benefits of what's happening in the community. It's amazing to me how many seed potatoes go out. I've been here on distribution days, and it can be amazing how much food gets distributed.  
CFI: Is there a particular moment/memory that stands out for you with CFI?
LP: I like seeing the YEAH! Kids at the market. They are always really enthusiastic! I really like their kimchi.  
I went to the seed-cleaning workshop at the Real Food Real Local Conference. I got a lot out of attending it. I really enjoyed going to the workshop and meeting people I hadn't talked to before. Some people who were at the workshop I had seen at the Farmer's Market or seen other places in town, but now I have a connection with them. Now we get to talk about that connection with seeds.  
I'm hoping to become a seed contributor, and I'm working on that. I need to test my germination. I recently planted a bunch of okra seeds, but whenever they germinated and came up, the seeds were not all the same kind. I could sell them as "mixed okra", but I couldn't sell them as a specific variety.  
Seed diversity here is a really big deal. Other people don't think about that as being an important part in our food system.  
When CFI comes out to the Chesterhill Produce Auction (I volunteer out there, too), it's fun to see CFI there, too.  
CFI: What do you think other people should know about CFI?
LP: All of the things I just said [laughing]. Knowing the difference that it does make in the community: Where all the food goes, when people give money, knowing exactly what happens to the food, and where it's going. CFI is in a lot of communities. I think one of the first volunteer things I did was drive food to Nelsonville. The place that was distributing there couldn't come out and get food from the Donation Station so I took some out there. That made a difference to them to get that food. The work we're doing is making a difference.
I helped Javi Devia, the AmeriCorps/COMCorps Discovery Kitchen Coordinator last year, distribute seeds out at the Athens County Job and Family Services. People were coming to get to get food assistance. But we were distributing seeds out there, and it was great how many people were really excited about it. I originally thought that we would be sitting there and no one would show up, but there was a big line. That was really amazing and a really good moment. I really liked to see that. People were talking about what they were going to plant. It was definitely making a difference, to somebody.