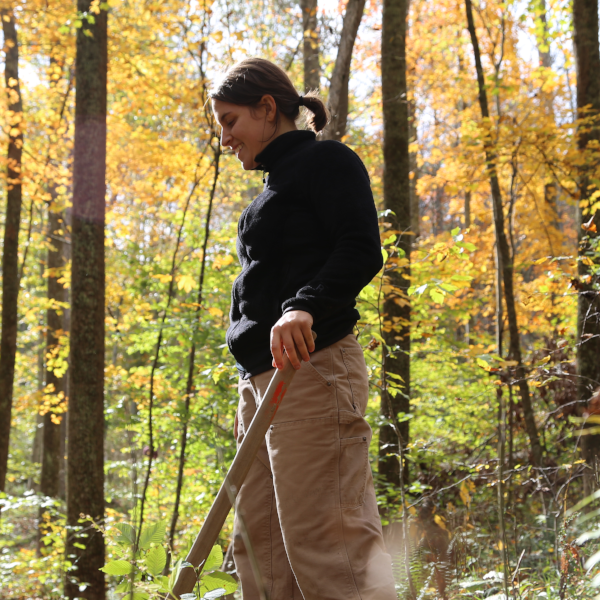 Members matter to both local and national organizations alike, and Community Food Initiatives (CFI) is no exception. We're proud to share the stories of our community members, and why they choose to collaborate with CFI, over the next several months in our #MembersMatter2017 series!
Caitlin Garrity, CFI member, calls the work of CFI "creative, different, and innovative" – a service that's "filling niches" other organizations in the area don't or otherwise cannot fill. As an Ohio University alumna, Caitlin first started to work with CFI as a way to get hands-on, real work experience in the southeast Ohio area. Now as an AmeriCorps for Rural Action, Caitlin continues to make a positive impact in our community. Read more of Caitlin's thoughts on "Why CFI?" in the interview below!
Interested in joining CFI as a member this year? Click here to sign up today!
This interview has been condensed and edited for clarity
CFI: When did you first hear about CFI?
CG: When I was volunteering for Live Healthy Appalachia. I was an undergraduate student trying to get more work experience and trying to understand the community a little better. I majored in Art History, and it was towards the end of my degree where I was feeling bogged down by books and research, while I was also writing a thesis. The work I was doing in school was really not hands-on in this really awful way, so I was itching to feel what real work is like in the area.  
CFI: Why is the work of CFI important to you?
CG: It engages the community. It provides food to people who need it.  
I'm an AmeriCorps member with Rural Action working in Zero Waste. Recently I had the opportunity to do a waste assessment with CFI, and I was learning all about the Donation Station and how much food goes to people. It's huge! And it's good for the farmers who aren't having to compost.
The Donation Station is really great. It's the most visible program CFI offers. And I really like the Grow-A-Row and Harvest Hotline programs, as well. From a waste perspective, having people going in to gardens and farms to glean food -- I think that's cool.
CFI: What do you enjoy most about being a member of CFI?
CG: For me, going to the workshops for free. I love the workshops, and I try to take advantage of going to as many as possible.  
My favorite workshop was the canning workshop because I was starting from ground-zero. I had no idea how to can. The education was framed in such a way that I didn't have to have an idea going into it, what canning was and how to can at all.  
CFI: Is there a particular moment/memory that stands out for you with CFI?
CG: I went to a food preservation workshop with Mary Nally, the Executive Director of CFI.  It's really cool that she is able to be the director as well as teach workshops, too. Mary said something during the workshop: "Well, I'm not an expert in this so if anyone knows better, chime in!" Workshops are usually framed in the "I'm the expert. You will sit there and listen to me" way. That way is disempowering for people to be told that they don't know anything.  So, for Mary to claim that she's not the expert, and to ask others to tell her if she's doing something wrong, created ownership. People were like, "I know this" and took the opportunity to educate each other above and beyond what was expected at the workshop. It was less of a workshop and more of a community gathering to share skills and ideas. I felt empowered to share something if I knew it. I will be teaching a workshop this March with Janice on how build compost bins, which I'm sure will be a great experience!
CFI: What do you think other people should know about CFI?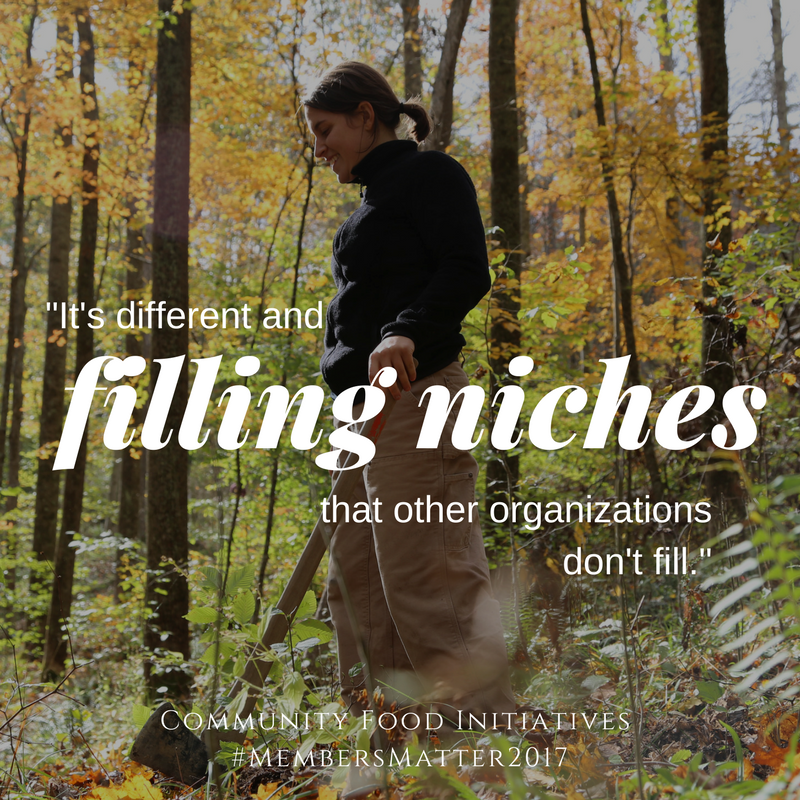 CG: CFI staff are innovative thinkers and they are doing work in the community that is creative, different, and innovative. Maybe it's just the branding, but their work is different and filling niches that other organizations don't fill. I like that creativity and that CFI is feeding people, helping people.
And CFI has COMCorps and AmeriCorps members, so it's also good for the young professionals that are emerging through those programs. They are getting a thorough knowledge of these food security issues.
It's sad that feeding the hungry has to be work, but it is -- so you have to keep plugging at it.