2023 CFI Community Potluck and Meeting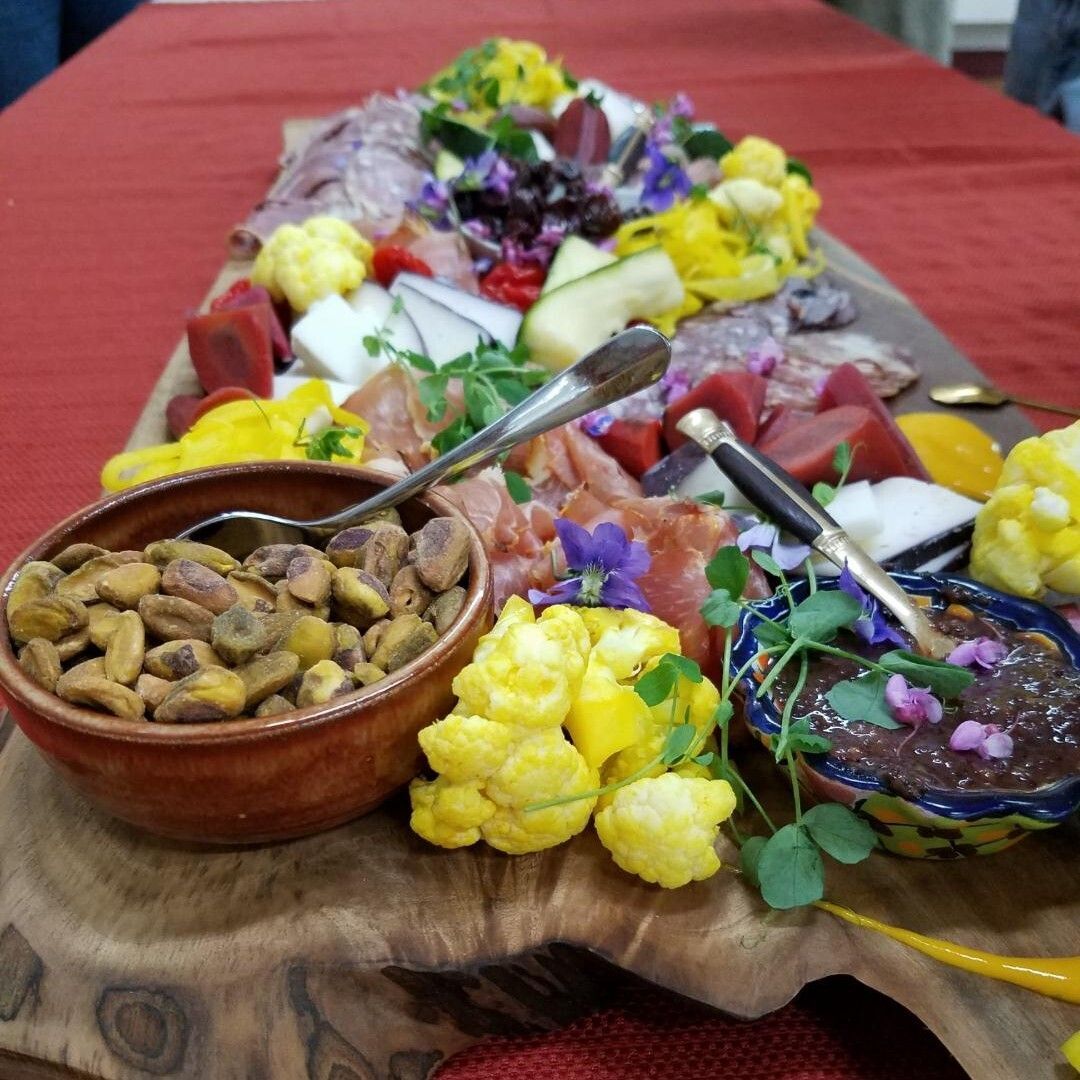 ---
Athens Community Center was filled with good food, gratitude, and smiling faces at the CFI Annual Member Meeting and Community Potluck on April 15th. Over 40 friends, old and new, came together to enjoy an afternoon of fellowship, celebration, and food and gardening themed activities as we reflected on 2022 and looked forward to our next twelve months of working together toward a resilient and sustainable region where everyone is nourished by a just, inclusive, and thriving local food system. 
Chef Becky Clark, Executive Chef at Little Fish Brewing Company and CFI Board member, kicked off the event by teaching attendees how to build a balanced and beautiful charcuterie board. Pickled local veggies, tea-infused cherries, and locally made cheese were just a few of the stars of the beautiful spread that Chef Becky assembled and shared with attendees. 
As guests dined on an amazing potluck spread, CFI Board Vice President Mat Roberts and CFI Executive Director Maribeth Saleem-Tanner shared updates on how the support of members and volunteers has made it possible to grow and share the harvest with thousands of our neighbors in the past year and shared the new CFI Strategic Plan. The three year plan, developed with support from the Sisters Health Foundation and facilitation by Athens-based Mission Met consulting, lays out a roadmap for strengthening CFI's sustainability and putting resources in place to support and grow Donation Station, Veggie Van, Community Gardens, Community-Based Garden Education, School Gardens and Sprouts, and Nourishing Networks. 
The highlight of the afternoon was celebrating our 2022 Golden Trowel Award Winning volunteers, as well as offering special recognition to two long-serving CFI Board members. We honored the service of continuing member Ruth Dudding, who has been on the CFI Board of Directors for 10 years, and outgoing Board Secretary Linda Parsons, who is stepping down after six years of board service to focus on engaging with CFI as a program volunteer (be sure to thank her for her leadership when you see her at the Donation Station table at the Athens Farmers Market this summer!). Members also elected the 2023 Board members and officers, including new members Caitlyn McDaniel (Staff Attorney at Southeastern Ohio Legal Services) and Heather Fuston (Business Development & Marketing Manager at Snowville Creamery and Root 56 Farms). 
The day wrapped up with a seed swap, garden chats, and many thank yous to the Board members, staff, and volunteers who put the event together. We hope to see you for our next annual meeting in 2024!
---
2022 Annual Report
---
New Strategic Plan (2022-2025)